Summer Workshop:
Cultural and natural heritage:
basis of European consciousness?
For nine days in July, the workshop offers to approximately 40 participants from all over Europe and beyond a unique opportunity to share their perceptions, thoughts and ideas on Europe and on key issues of the day, such as democracy. This year we will discuss cultural and natural heritage as the basis of European consciousness.
In this perspective, the seminar of the College of Cluny is a result of more than 17 years of experience by having already welcomed over 800 European and non-European citizens from around 50 different countries.
Program
(coming soon)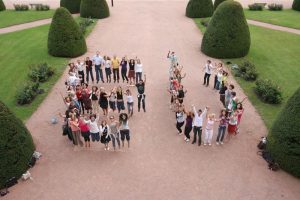 2018 topic
Cultural and natural heritage:
basis of European consciousness?

The European territory has an abundance of richness that has an impact on our identity : languages, democracy, human rights, architecture, gastronomy, songs, landscapes, biodiversity,…are all part of the European material, immaterial and natural heritage. In a time when the European Union must find a new lease of life in its construction process, the preservation and promotion of Europe's cultural and natural heritage is of utmost importance. For 9 days, the participants will share their observations and visions on the subject and will then elaborate their democratic, cultural and political propositions on the topic.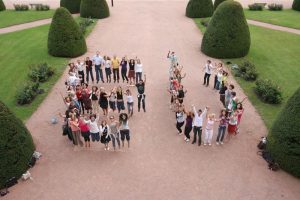 Dates

From Thursday 5th July to Saturday 14th 2018
The workshop officially opens on Thursday 5th July at 6 pm (registration from 12 am), departure is on Saturday 14th July in the morning.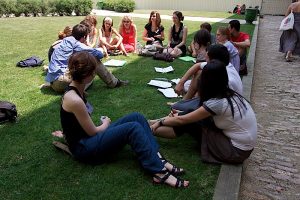 Method
The "Cluny method" is the development of collective intelligence that makes use of interdisciplinarity and plurilingualism. The facilitators will invite the participants to develop their autonomy and their self-learning abilities, to appropriate innovative methods of co-construction based on mutual learning.
Conference, training sessions and working groups will enable you to develop negotiation skills and to gain an overview of the main issues at stake.
Aims

The main aims of the summer workshop of the European College of Cluny are to:
Share and exchange
Develop critical thinking skills
Analyse and evaluate
Compare and differentiate
Propose innovative solutions
By coming to Cluny, you will have the opportunity to discover French national heritage and to live a unique multicultural experience with young people from all over Europe.
Working language : French and English
Communication is essentially bilingual, but for certain parts of the programme French or English will be used more frequently. The understanding of both languages is necessary and for that reason a minimum level of B2 in French or in English is expected (minimum B1 for the other language). By immersing yourself in the workshop, you will be able to improve your communication skills in both languages. Nevertheless, be aware that the workshop is not a language class!
How to apply?
Upload your application onlineincluding:
Background : Apart from language skills, no other academic or professional qualifications are required. We explicitly encourage participants from various fields to apply.
Deadline for applications is the 30th April 2018
Selected candidates will be informed by email before 12th May 2018
Candidates must confirm their participation within two weeks after being selected.
Selection criteria

Minimum age : candidates must be born before 1st January 1998
Personal motivation
Geographic diversity: 3 to 4 candidates per EU member states; 1 to 2 participants for non-European countries
Linguistic competences
Registration fees

Limited places, hurry up to register!
Early birds on fee, before May 25, 2018: 400 €
Standard registration fee between May 25 and June 25, 2018: 500 €
This amount includes accomodation and meals within the Abbey. Travel costs are not included in the fees.